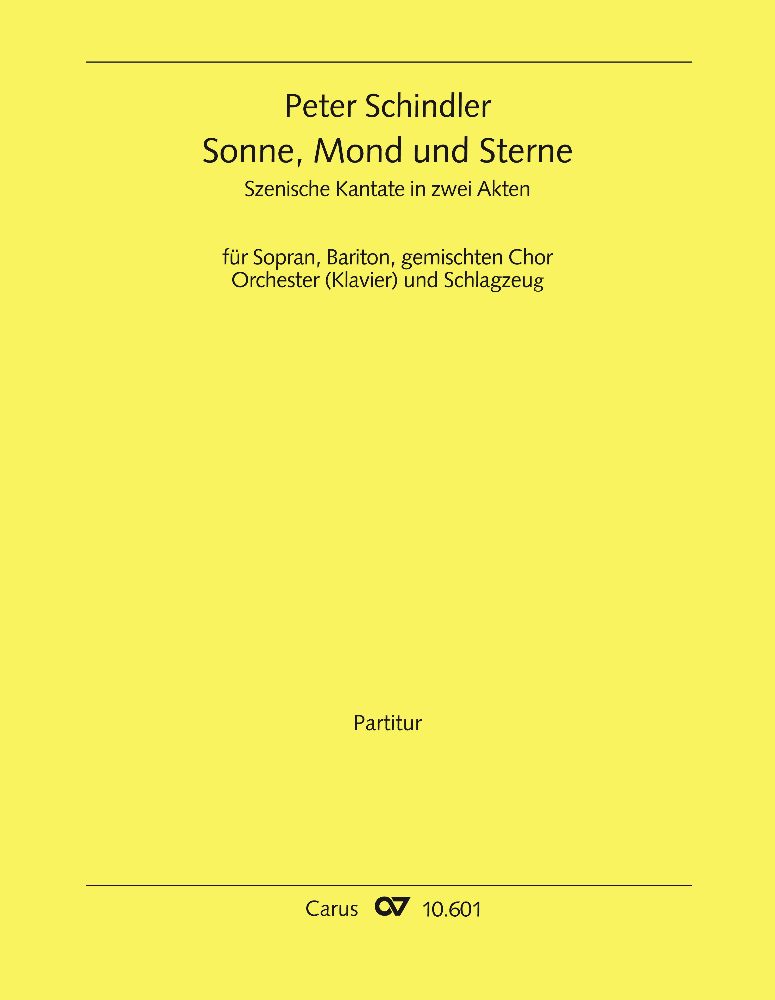 About living life to its fullest
about everlasting nights
and never ending questions.
A Scenic Cantata in two acts.
For soprano, baritone, mixed choir, orchestra, piano and percussion.
Different arrangements possible, from piano and drums to a full orchestra
An evening of choir music
Length approx. 1 hour 50 minutes
Two acts / one intermission
Texts from twenty-six German-speaking poets spanning five centuries. Some of the tests were passed on orally from one generation to the next and for these, the author is unknown; such texts are identified in the collection "Des Knaben Wunderhorn" ("The Youths Magic Horn") with "Unknown Author."
The poems – from the Middle Ages through to the Romantic period – tell tales of the sun, moon and stars; of love, desire, passion, time and the cycle of life, of dreams and of death. Juicy, erotic and passionate matters are broached, as well. A host of human desires and zest for life, a kaleidoscope of life. Every-day ordinary things, the coarsely comic as well as the most serious things are sung about. Set to music, the texts covering the last five centuries take on a new meaning. They make  audiences laugh and cause them to reflect.
A love story between a woman and a man is woven like a yarn, tying the pieces of the story together. By means of a scenic staging, in certain places, the work comes close to taking the form of an opera or a musical.
The music is inspired by classical, jazz, chanson, pop and chamber music, and is melded into its own unique tonal language. It is multi-layered, at times like a street ballad, as the lyrics capture the humorous as well as the serious. Gregorian chants, choral music and fugue, counterpoint and late Romanticism and Neoclassicism, harmonically modern music and jazz combine stirringly with the poems. Inward looking, yearning choir songs are juxtaposed with rousing works that have been influenced by jazz rhythms and gospel harmonies.
The ambitious choral part is of an above average level of difficulty. It is just as exciting and demanding for an experienced "Verdi-Requiem-singer" as it is for ambitious chamber groups or youth choirs coming from a background of gospel, pop or jazz.
The piece is ideally suited for interdisciplinary studies in a school setting as well – in subjects such as history, German language, religion, ethics, astrology, astronomy, etc.
A recording of the work's world premiere is available, under the direction of Peter Schindler with Sandra Hartmann, Georg Gädker, the CoroPiccolo of Karlsruhe and the Camerata 2000.
"A bag of wonders full of music, transcending time" was the title of the review by Johannes Koch for this piece, which was performed in front of an enthusiastic audience at a sold-out concert in the Beethovensaal at the Liederhalle in Stuttgart on July 20, 2011. "Far from musical eclecticism, Schindler has developed a unique, thoroughly individual musical language which sums up the whole of European cultural history in one evening."
You can download the complete review in the Downloads / Press  section.
Buy sheet music